Elles font l'Ariégeoise.com
New !
Profile and track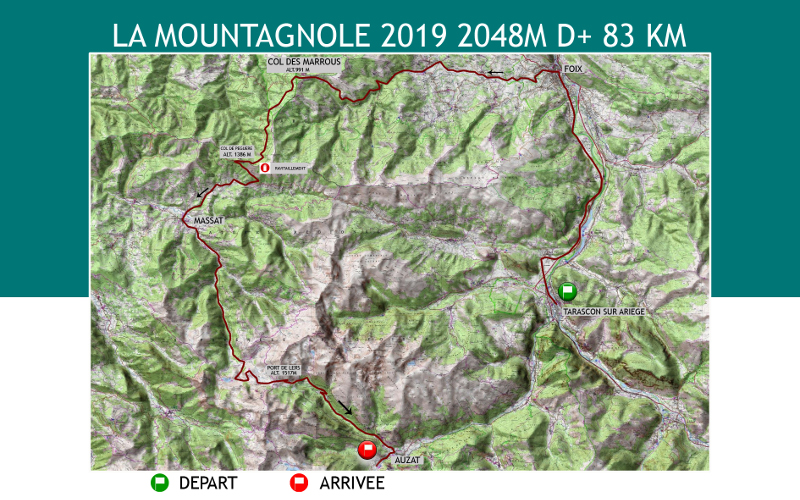 Download track
Description
"They're going to be doing the Ariégeoise" this year, many more than in previous years! This is because a new format has been created on the initiative of the President and his inner circle.
As can frequently be seen in other activities, for example: running, trail or gymnastics, women athletes often like to participate in groups of friends or colleagues. Something that introduces the notion of challenge as well as solidarity, without losing sight of the competitive element.
So why not apply this principle to cycling through the "Ariégeoise" Gran Fondo? It only means creating a specific women's circuit for the Ariège … with, of course, a distance and altitude gain made to measure! The object is to have a larger female input into the cycling festival that l'Ariégeoise represents … the other circuits are still available for those who prefer "out and out" competition, if I dare say it!
For the circuit: the first long ascension out to the col de Péguère is the same as in the other circuits … but, arriving at Massat, you climb Port de Lers via Etang de Lers, before joining the Vicdessos valley to finish at Auzat like the rest! 2 "tough" cols to climb for 83 km and 2073 m altitude gain. Individual motivation and group solidarity as well as the challenge among friends will all be tested, the route will make sure of that!
So, we're waiting for as many of you as possible next 29 June at Tarascon … and will be soliciting your comments at the arrival, so as to improve the format for future years!