Profile and track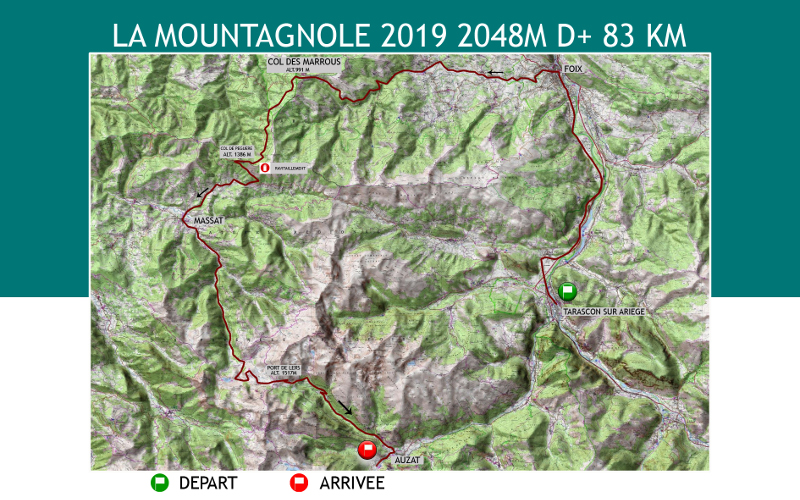 Download track
Description
2048 m of altitude gain!!! The Mountagnole 2019 is a true mountain stage.
To lessen the difficulty of this altitude gain worthy of any serious competitor, we have shortened the distance and the 83 kms of this 2019 circuit will delight you with both superb landscapes and tough cols.
The first 17 km take you to FOIX; look up as you pass at its magnificent castle.
Then the Mountagnole really starts. No more on the flat, but a genuine mountain profile, 28 km of col with a difficult passage at the village of Burret; the Auberge des Myrtilles passed as you arrive at Col des Marrous; breathtaking scenery with towering pine trees as you enter the forest. You start to feel the mountain's grip tightening.
The summit of Col de Péguère approaches!!! Take a couple of minutes to admire one of the best views in the Pyrenees.
A very technical descent follows, a rapid traverse of MASSAT and already the slopes of the col de l'Etang de l'Hers and the Port de l'Hers appear.
The Tour de France 2019 peloton will be taking this route in the other direction.
At 1517 m altitude, the summit of Port de l'Hers, you've arrived, done it!!! You're a true climber!!!
Take care on the descent.
Goals
| | | |
| --- | --- | --- |
| | OR | ARGENT |
| M1 18-34 | 3:00 | 3:20 |
| M2 35-39 | 3:05 | 3:25 |
| M3 40-44 | 3:10 | 3:30 |
| M4 45-49 | 3:15 | 3:35 |
| M5 50-54 | 3:20 | 3:40 |
| | | |
| --- | --- | --- |
| | OR | ARGENT |
| M6 55-59 | 3:25 | 3:45 |
| M7 60-64 | 3:30 | 3:50 |
| M8 65-69 | 3:35 | 3:55 |
| M9 70&+ | 3:40 | 4:00 |
Galery