Profile and track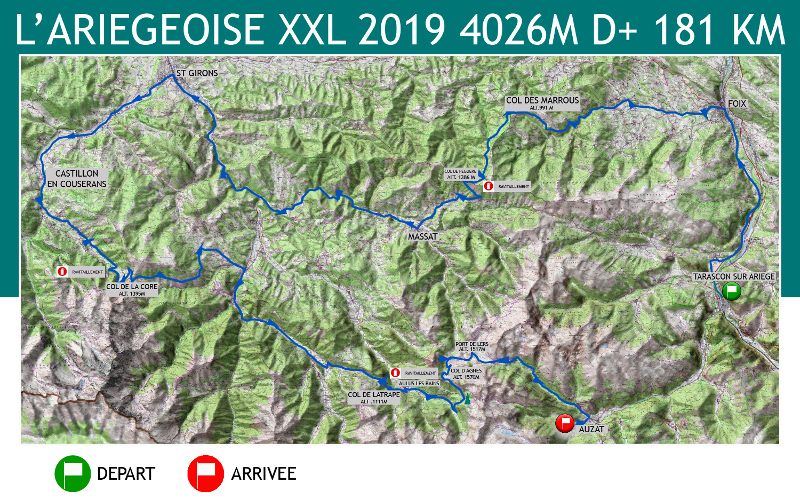 Download track
Description
2019 will be the year where there is once again a single finish for all circuits. All the participants will thus have the pleasure of the applause and respect of the spectators massed along the barriers of the last kilometer. Because, even if those taking part don't "do the Ariégeoise" just for that, the emotions arising from such a public welcome will always be remembered: it is also a terrific feeling – it has to be admitted!!!
The Ariégeoise XXL circuit is basically in the Couserans (as it is every two years) and there are 5 cols programmed. 4026 m altitude gain for 181 km distance with a new element: descending the Mur de Péguère.
Even so, the first 130 kilometers are not straightforward with the 28 km climb to Col de Péguère; beware of the one-two punch of the cols d'Agnès and Port de Lers that follow (preceded by the cols de Latrape and de la Core!): no respite, no salvation on the flat …you'll need to have kept back enough energy and strength to have the rightful joy of crossing the finish line, just after the final descent, at Auzat!!
Goals
| | | |
| --- | --- | --- |
| | OR | ARGENT |
| M1 18-34 | 6:00 | 7:00 |
| M2 35-39 | 6:15 | 7:15 |
| M3 40-44 | 6:30 | 7:30 |
| M4 45-49 | 6:45 | 7:45 |
| M5 50-54 | 7:00 | 8:00 |
| | | |
| --- | --- | --- |
| | OR | ARGENT |
| M6 55-59 | 7:15 | 8:15 |
| M7 60-64 | 7:30 | 8:30 |
| M8 65-69 | 7:45 | 8:45 |
| M9 70&+ | 8:00 | 9:00 |
Galery