Description
What can one say by way of introduction? Just that, in 2021, the l'Ariégeoise XXL is worthy of the finest mountain stages of the Tour de France or the Giro, with 178 kms, but particularly with its 4900 m of altitude gain, making it the most demanding circuit that the l'Ariégeoise has ever offered!
The route of the l'Ariégeoise itself also presents plenty of difficulties with 162 km and 3638 m of altitude gain. 
Realistically, these events are above all the preserve of well-prepared and experienced cyclo-sport riders who know from previous experience that they're ready to face such a challenge. To achieve a Paris-Brest, an Iron Man or the Mont Blanc Ultra-Trail, for example, requires "qualification" or accumulating points from similar types of events. Therefore, participating in the l'Ariégeoise XXL 2020 means you should have a minimum of 4000 m preparation and be aware of the physical demands that a succession of high mountain cols make. The circuits of the l'Ariégeoise XXL or the l'Ariégeoise enable participants to meet a challenge that they've set themselves.
Let's now look at the 2021 circuit: there's only a short warm-up! From Km 30 the 'fun' starts: the Col de Montségur then that of the Croix des Morts.
The crossing of the Plateau de Sault and the descent to the Aude gorges enable some recuperation, before attacking the Port de Pailhères with its 16.5 km at 7.4%, the "roof" of the Ariège cols with its 2001 m altitude. First traversed in the 2003 Tour de France and then in 2005, 2007, 2010 and 2013, the Col de Pailhères has wrapped up the race before a final climb towards Bonascre or the Plateau de Beille ! It's a col to negotiate with some prudence, as it's followed by the ascension of the Col de Chioula which will do some damage: 6.3 km at an average of 7.6%. There follows a magnificent crossing as if on a balcony above the Ariège valley and the descent to Verdun, with negotiating its S-bends requiring plenty of care, even if they're perfectly sign-posted !
For those doing the l'Ariégoise with its 162 kms for 3638 m of altitude gain, the finish is at the village of Cabannes. For the others, a last, but not least, difficulty awaits: the final climb to the Plateau de Beille ! These are the day's last 15.8 kms, the toughest at 7.9% average with passages flirting with 11%. Only in the last 2 kilometers does the slope relent, permitting a glimpse of a well-deserved arrival ! From the international Under-23 race, the Ronde de l'Isard, to the professional Tour de France, the Plateau de Beille has seen the apotheosis of great champions.
Profile and track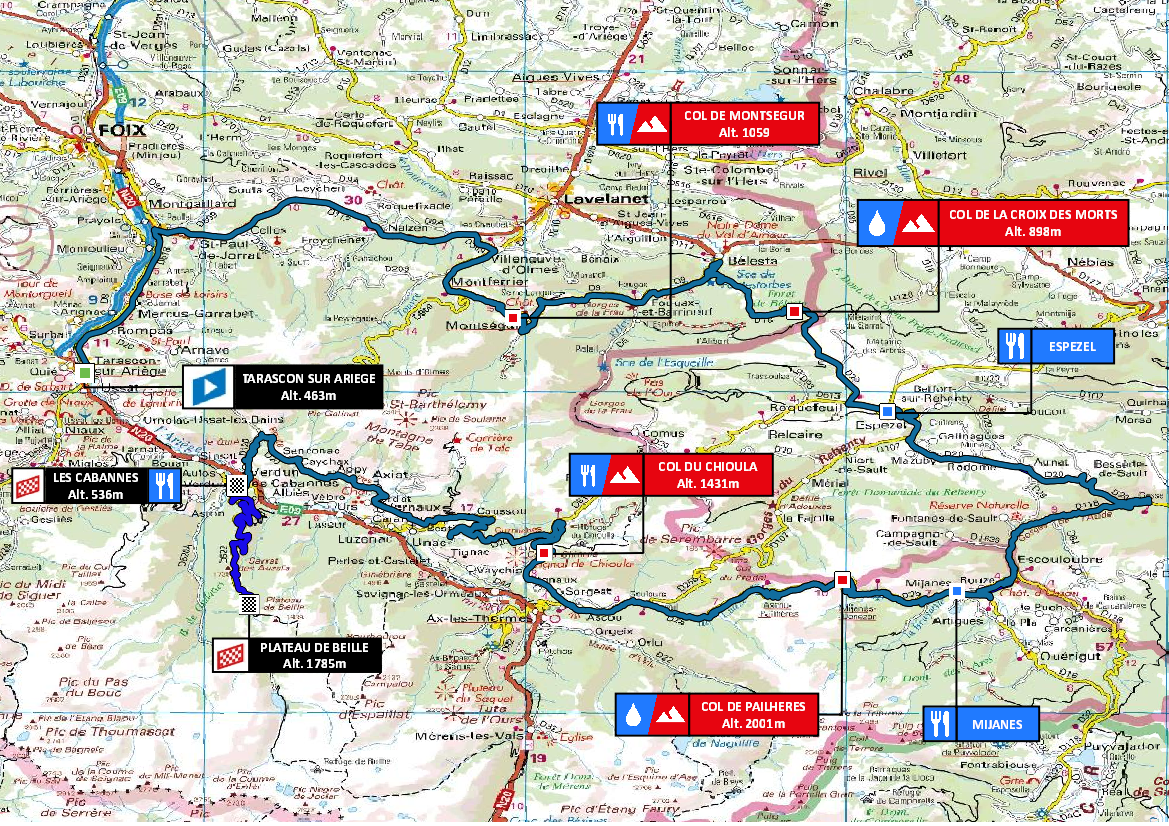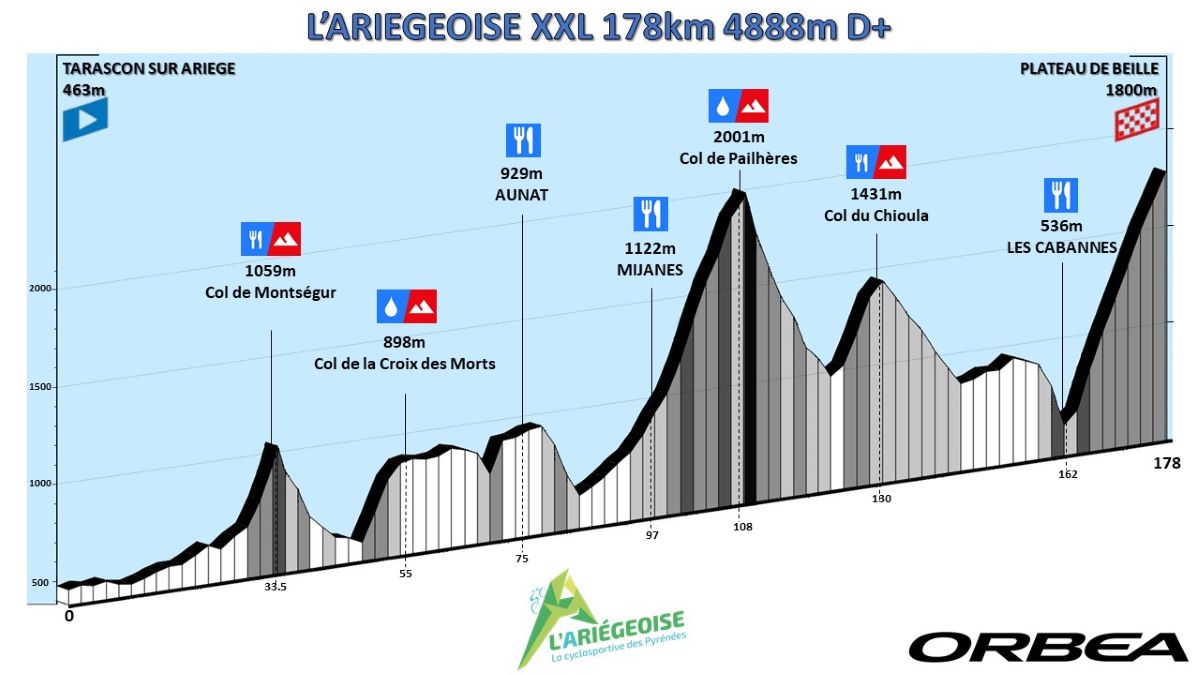 Download track
Galery